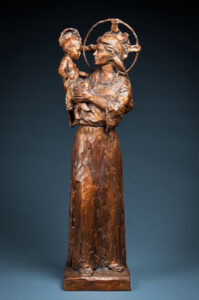 Our own Dennis Smith is one of the featured artists currently being displayed at The LDS Museum of Art, in downtown Salt Lake City. Dennis is showing four pieces in the "Seek My Face" Art Exhibit that runs through the end of June 2011.

"The exhibit features twenty-nine American professional artists, all from various backgrounds, but sharing a common religious orientation. All the artists have been invited to create exemplary visual art based on gospel themes-especially of The Lord Jesus Christ. With sincerity and dedication, skilled painters and sculptors have expressed stories from the Bible and The Book of Mormon in new, original pictures. These new and contemporary works share insight into subjects that depict the life and teachings of the Savior.
The artists have all made great efforts to creatively express gospel principles, uniting their testimony and knowledge of the subject, together with artistic gifts. The thoughtful works stem from a project organized by Artist Guild International LLC. Many of the artists have participated in this project to express their testimonies of gospel principles.
The exhibit will be on display in the Church History Museum from March 1 through June 2011"
http://www.ldschurchnews.com/articles/60623/New-scriptural-art-Seek-My-Face-exhibit-opens-at-Church-History-Museum.html