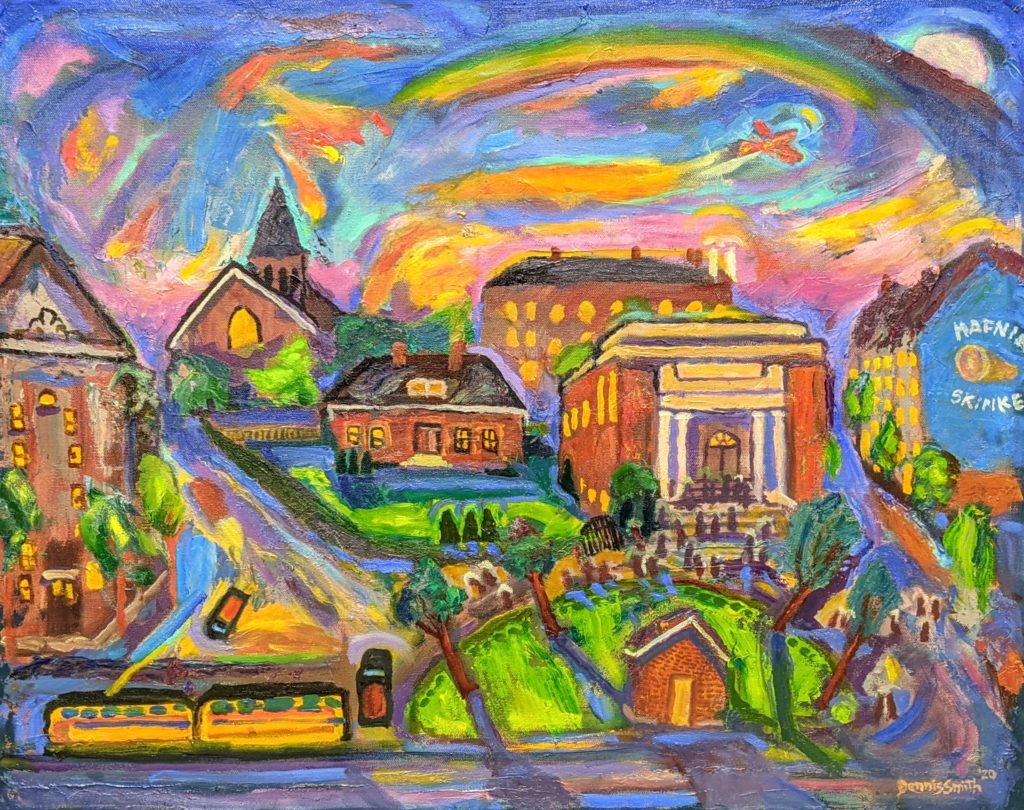 24×30
Oil on Canvas
$4,680
We all have moments in our lives that are pivot points, where our perception of the world is reconfigured into a whole new perspective.  This painting is a expression of one of those moments in my own life which, for a long time, I had wanted to express on canvas.
It is a portrait of the old LDS chapel in Copenhagen, built in the early 1930's, together with the adjacent villa which served as a home for the acting president of the LDS mission in Denmark, and his family.  served as the heart of the church in Denmark, and it happens to be where I found myself toward the end of October, 1961, in the attic of the villa on the first night of my service as an LDS missionary. I was only nineteen at the time, had never been out of the US before, and was very homesick.
That was over 59 years ago.  I had just eighteen hours earlier said goodby to my sweetheart, Veloy, whom I would not see again for the next two-and-a-half years.  We would later marry, two months after my return from Denmark in 1964.  Still, my years in Denmark, despite how much I loved the country, had been tough.  As I would also realize on reflection, however, the time away from home had been a great blessing, and my attachment to Denmark has only increased over time.   Many people there who to become life-long friends have had an strong influence on my life. Seeing the world through their eyes have made me a better person.
I write this in December after having just created this painting and a second similar one during the latter portion of 2020, a year that has pummeled us all with anxiety and insecurity.  This stress of it all has reflected itself, I suppose, in how the two paintings have emerged. In this one, a fiery sunset swirls overhead,trams and cars scurry about the streets, and faceless figures in front of the church seem almost frozen in time.
But I am never one to paint dreary scenes that have no counter- balancing narrative.  For example, a Danish Lutheran church on the left side of the painting pierces a scurried, comet-ridden sky.  The Mormon church and villa in the middle ground act as solidifying bulwarks with glowing bright windows. There is even a suggestion of deity hovering over the church, which in recent years has been converted to an LDS temple. No longer a young kid from a small town in Utah, my own bright red plane surges upward toward a hopeful future as it leaves a contrail of brilliance overhead.
The attic of the villa where I looked out at my first view of the city so many years ago opens itself out onto to the many mysteries of experience, and to the wonders of a people and culture which were to become such a meaningful part of my life, and I am overcome by the depth of my feelings toward this home so far away from home…..away from home.
Painted 2020