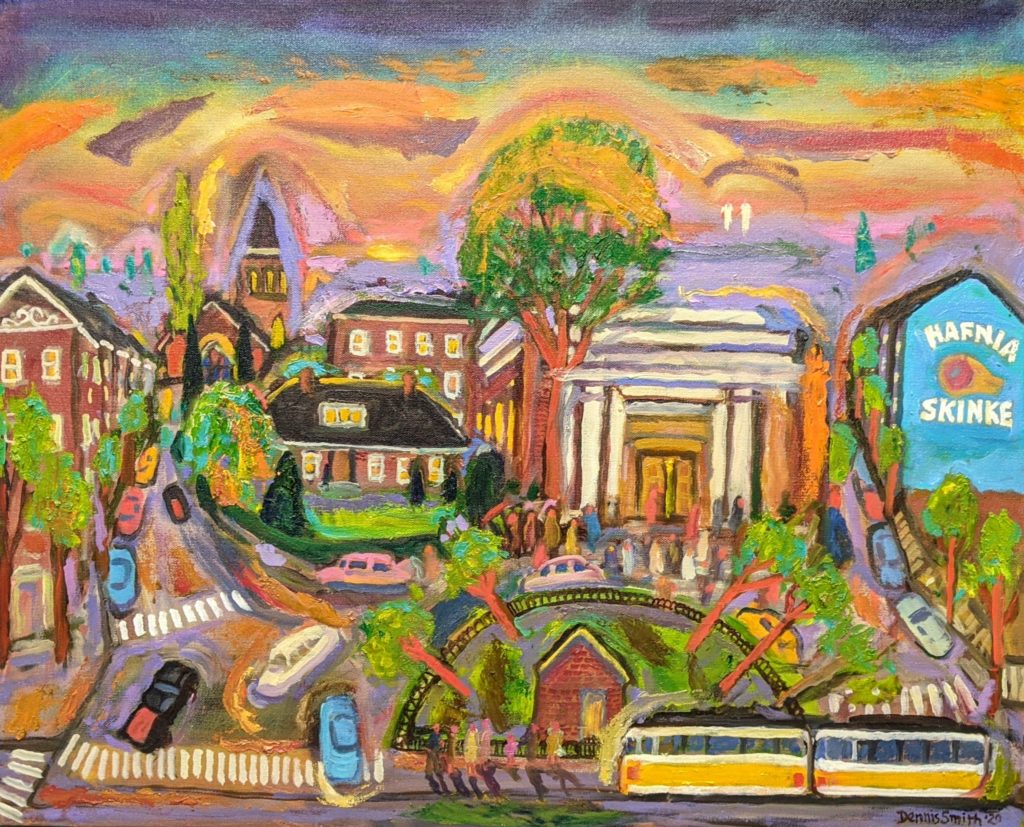 24×30
Oil on Canvas
$4,680
Back in the 1960's, Borups Alle was the name of a thoroughfare which took traffic out the heart of Copenhagen. Priorvej is a tiny side street off Borup's Alle in a section of the city named Nørrebro…..and Priorvej number 12 is the address of the LDS Temple located on the corner of this tiny, narrow, inconsequential street.
This, however, was not always a temple. In the early 2000's it was remodeled into a temple from an older and very special LDS church which had been built in the early 1900's for the central branch of Denmark's three thousand or so church members, of whom approximately six or seven hundred lived in Copenhagen.
When I was a young missionary in Denmark in the early 1960's, church members would gather to Priorvej every Sunday for church, and missionaries like myself would careen on our bicycles into the alley behind the church, giddy with the thought of seeing someone else besides your companion with whom you often shared a tiny, cramped, cheap, musty, rented room in some forlorn corner of the city.
Needless to say, the church at Priorvej 12 was a home away from home for the approximately 180 missionaries gallivanting around Denmark's many provincial cities, towns, islands, peninsulas, back roads and endless fields of grain and bright yellow mustard. Priorvej 12 was where you met past missionary companions, members of the church you had come to know and love, and all sorts of other assorted people—shopkeepers, fanatics, detracters, curiosity seekers, landlords, bakers, housewives and smarmy-mouthed kids with Viking genes.
Sometimes you came across Americans, in those days, so seldom that you might thoughtlessly blurt out something like: "So you're from Minnesota? I knew a guy once in school from Minnesota. Maybe you knew him?"
And then there were the visiting Mormons, tripping through Europe on vacation. Sometimes you could figure out that they knew someone who knew someone who knew someone you knew back home. Such serendipitous discoveries were always special. This may seen like a small thing now in a world that is shrinking by the week, where Americans in Europe are as common as baked bread. But remember, this was sixty years ago, when the the 747 was no more than a twinkle in William Boeing's eye.
In those days, few church members in Denmark had automobiles. Most people pedalled bicycles, or rode trams, or took the metro. Two tram lines passed Priorvej, and on Sundays they were jammed full of Mormons. During the war, when the Nazis occupied Denmark, a local member of the church named Orson West became the first "native" Danish mission president. Deeply loved by his flock, President West "trimmed" Mormons and Nazis alike all over Copenhagen on a daily basis,
It was a sad day at Priorvej 12, a few years after the war, when Brother West and his family emigrated to Utah. Years later, his son, Borge, was my mission companion through the Summer and Fall of 1962. Borge spoke perfect Danish and would gently discipline my pronunciation until I could make it through a blessing on the food without him whacking me one to the side of the head. When he came back to Utah he went to work for the post office………
But I digress. Seems I haven't yet talked much about the painting. Or have I? As I study at it here over my shoulder, I realize that I've been talking about it all along.
This is a more gentle painting than the first, which was titled, "Turbulence Over Copenhagen".
In this one the sky has a bit pinker cast—-what Homer might have called "a rosy-fingered dawn". I had actually been thinking sunset when painting it, but whether dawn or sunset, it comes off as an ecceptionally radiant moment. An arc of trees in front of the church almost feels like a carousel, and another massive tree surges over the church like a bursting firework.
I hadn't expected these images to have such radiance. But, now, for how I feel, they make perfect sense.
As I finish writing, it is almost midnight here in Alpine. Eight hours away on Priorvej it is Eight in the morning. I can hear the din of morning traffic and the grumbling of passing buses. Around the corner on Borup's Alle the bakery is open and I can smell the aroma of Danish pastry. A woman at the flower shop by the bakery is setting out large buckets of flowers, yellow and white bursts of color, and bright tulips from Holland.
If I were younger, I might move back to Denmark…….if I weren't so attached to home. Still, Denmark was a blessed stepping stone onto the edge of Europe, and an introduction the world beyond the one where I have lived most of my life. And for this I am grateful.