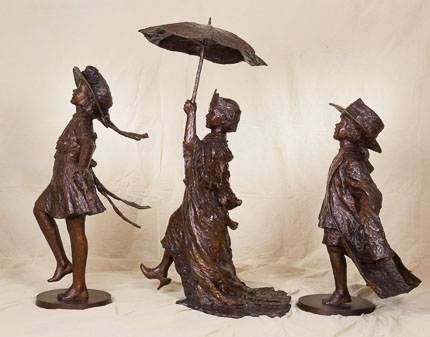 PROCESSION
Edition of 12 
H 63″ (tallest)
Price: $69,400
Individual Pieces may be purchased
Dressing up brings on a celebrative air of grandiosity.  Without even thinking, a procession is formed.  The oldest, of course, with the flowery hat that once was Grandma's, leads out, followed by a shaded queen as her own attendant.  Bringing up the rear, the tiniest marcher soars on wings of wool; he can barely see his way ahead from beneath the hat with the monstrous rim, and his arms reach out in a fully determined attempt to keep his feet from touching the ground.
Main Street Art is one of the nation's premiere sources for Fine Art Bronze. Our talented artists cover many styles and subject matter. All work is cast in small limited editions.
For questions about purchasing or commissioning work please contact us.