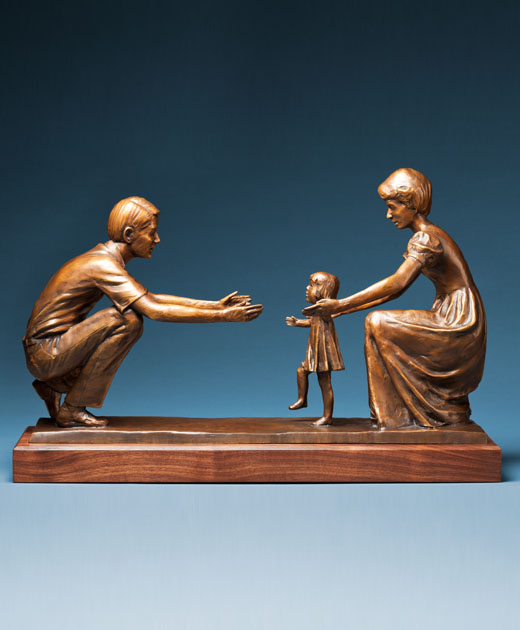 IN THE FAMILY CIRCLE – ORIGINAL
Available in Two sizes:
Edition of 100
H 13″, W 23″, D 7″
Price:$4,900

Edition of 12
Life-size
Price:$125,000
Though none of us remembers the moment of our own first step, we often remember the first steps of our children.  There is a tremendous inner urge that drives an infant to grow from "baby" to "toddler".  We do not usually think of "toddler" as a title, but maybe it should be.  And that first step is the the big one!  Bumped and sometimes bruised in the weeks before it is taken, trial and error finally pays off.  "In the Family Circle" is the arena where a sense of security assures the child that toddling can be accomplished.  It is, however, only the first step in many.  Loving parents and caretakers are invaluable supports in these small, up to this time, adventures of a lifetime.
Main Street Art is one of the nation's premiere sources for Fine Art Bronze. Our talented artists cover many styles and subject matter. All work is cast in small limited editions.
For questions about purchasing or commissioning work please contact us.