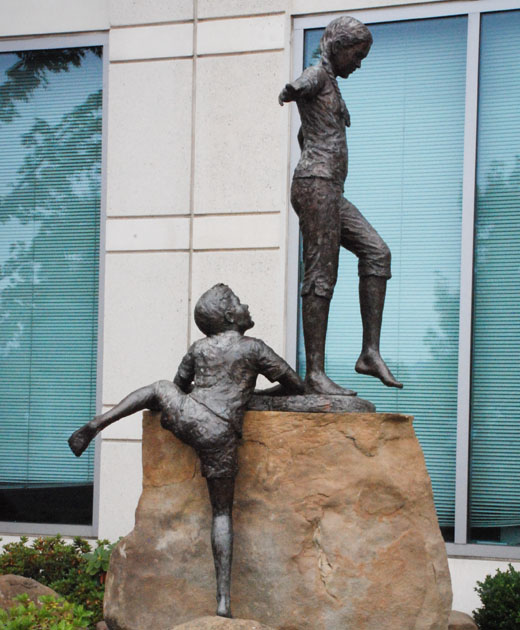 FOLLOW THE LEADER
Edition of 12 
H 98″, W 50″, D 50″
Price: $45,000
Though my work is initially inspired by simple gestures, it has been good for me over the years to realize, that many of my images evolve in being with metaphorical implication.  Follow the Leader is an excellent example of this.  Because of the positioning of the two figures, it is clear to the viewer that the girl on the edge is in a progression which begins on the ground and that she is moving forward in a way to challenge her own sense of balance.  Being older, she also acts as an example, and at the same time, a challenger to the younger boy behind.  He struggles to keep up, determined to meet the same obstacles with success that she is pushing through.  Together, they explore the everyday challenges we all face, whether in the backyard or in the larger world.  We cannot escape the surges of growth that confront us on a daily basis.  In fact, it is too easy for we, who have had our days of exploration, to protect our followers – our children and grandchildren, from the dangers inherent in a world fraught with wonder and responsibility.
Main Street Art is one of the nation's premiere sources for Fine Art Bronze. Our talented artists cover many styles and subject matter. All work is cast in small limited editions.
For questions about purchasing or commissioning work please contact us.