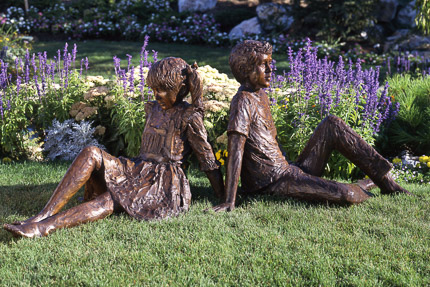 BACK TO BACK
Offered in two sizes:
Edition of 30
H 12″, W 32″, D 13″
Price: $6,000
Edition of 12
H 26″, W 30″, D 41″
Price: Edition Sold Out
The play of opposites.  Boy and girl.  Yin and yang.  It is impossible for us remember a time when we were not conscious of the delicate balance between male and female.  Mark Twain expresses it as well as anyone ever has in "The Adventures of Tom Sawyer" with the playfully amorous dance between Tom and Becky Thatcher which winds itself through the center of the narrative.
Back and forth, the two young sprouts of adolescence struggle with the giddy and, at the same time, precarious dance of budding boy/girl relationships.  Back to back, we balance the evolving experience of life together in a world of opposites.